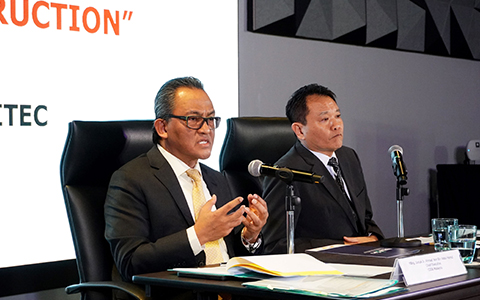 BUILDXPO 2023 SET TO BE ASIA'S PREMIER EXHIBITION PLATFORM FOR SUSTAINABILITY AND INNOVATION IN THE BUILDING INDUSTRY
Kuala Lumpur, Malaysia, 4 July 2023 – In support of the nation's 2050 carbon-neutral target, BuildXpo, the Malaysia International Building and Construction Industry Showcase 2023, aims to serve as a platform for both local and international builders and contractors to find solutions and be exposed to forward-looking ideas for meeting the global ecological and social challenges.
Themed, "Leading ESG in Construction", the exhibition will feature five segments, namely, construction technology and IBS, construction materials, construction equipment, construction machinery, systems and services, and start-ups in the construction industry.
Hosted by the Construction Industry Development Board (CIDB) Malaysia and managed by Qube Integrated Sdn Bhd (QUBE), BuildXpo 2023 aims to be Asia's premier business platform for the construction and building industry, anticipating RM1 Billion worth of business transactions.
"The vision for BuildXpo 2023 is to make it a premier construction exhibition in Malaysia, the region, and globally," said Datuk Ir. Ahmad Asri Bin Abdul Hamid, the Chief Executive of CIDB Malaysia. This commitment to excellence, coupled with the construction industry's significant contribution to Malaysia's GDP, shows the importance of BuildXpo 2023 as a catalyst for sustainable growth and innovation in the sector.
QUBE Integrated (M) Sdn Bhd and the Construction Industry Development Board (CIDB) Malaysia have forged a strategic collaboration to co-organise this inaugural event. This partnership, established under the Public-Private Partnership (PPP) initiative, sets out to drive Malaysia's construction industry into new heights by championing Environmental, Social, and Governance (ESG) practices.
The construction sector in Malaysia has been experiencing a rapid recovery, with an increase in the number and value of construction projects. In the first quarter of 2023, the value of completed projects rose significantly by 9.4 percent to RM32.2 billion, demonstrating the industry's robust growth and potential for further development.
BuildXpo 2023 will feature 500 booths in approximately 10,000 square metres of exhibition space, accommodating approximately 200 local and international companies across various sectors, including construction technologies, construction machineries, Software and Industrialised Building System (IBS), construction equipment, construction materials, Systems (smart buildings and automation) and Services, as well as startups in construction related industries.
The exhibition aims to attract over 10,000 industry professionals, including architects, engineers, property developers, contractors, and government bodies. It is expected to draw participants from more than 10 countries, including China, Thailand, Indonesia, Singapore, and Japan, among others, further amplifying the event's international significance and appeal.
BuildXpo 2023 will be held in conjunction with the established International Construction Week (ICW), offering several tracks such as business matching and hosted buyer programmes, technical seminars and workshops, career talks in the construction industry, new product launches, students' robotic / engineering competitions and the CIDB Fellowship Award.
BuildXpo 2023 has gained strong support from prominent organisations such as Jabatan Kerja Raya (JKR) and the Malaysia External Trade Development Corporation (MATRADE), underlining the industry's acknowledgment of BuildXpo 2023's significance as a catalyst for the growth and sustainability of the construction sector.
In addition to JKR and MATRADE, BuildXpo 2023 has garnered support from various influential associations including Institution of Engineers Malaysia Training Academy (IEMTA), Association of Consulting Engineers Malaysia (ACEM), Chartered Institute of Building (CIOB), Malaysia Green Building Council (MGBC), the National Ready Mixed Concrete Association (NRMCA), Malaysia Heavy Construction Equipment Owners Association (PAJPBM), Construction Research Institute of Malaysia (CREAM), and The Electrical and Electronics Association of Malaysia (TEEAM), among others. This widespread endorsement from industry associations demonstrates their recognition of BuildXpo 2023's objectives and aligns with its mission to drive progress in the construction industry.
"BuildXpo 2023 has also established partnerships with renowned international exhibition counterparts, namely Zambia's ConExpo and Thailand's BCT Expo. These collaborations bring in expertise and foster cooperation to enrich the exhibition experience, making it truly global in its reach and impact. We are very pleased to mention that BuildXpo 2023 has been well received by our stakeholders and partners with close to 50% confirmation rate for its participation thus far. This is a positive sign reflecting a stronger recovery in the sector of Business Events ultimately contributing to the country's direction and effort in increasing greater visitors for the MICE market. BuildXpo 2023 is a home grown event and QUBE's aspiration is to drive this event into a regional and global event," said QUBE's Executive Chairman, Richard Teo.
"With the National Construction Policy 2030 emphasising digitalisation and sustainability, BuildXpo 2023 serves as a timely platform to showcase advancements in these areas, promoting effective management of facilities and assets and driving the industry towards a more resilient and environmentally conscious future. We aim to put Malaysia on the world map as a resource for sustainability and innovation in the building and construction industry," Datuk Ir. Ahmad Asri Bin Abdul Hamid further explained.
BuildXpo 2023, Malaysia's premier international building and construction industry showcase, will be held from 15 to 17 November 2023 at MITEC, Kuala Lumpur. For more information contact tel: 03 6211 4224 or email: [email protected]
About BuildXpo
BuildXpo is the premier Malaysia International Building and Construction Industry Showcase dedicated to advancing sustainability in construction. With a focus on Environmental, Social, and Governance practices, BuildXpo serves as a platform for industry professionals and stakeholders to exchange knowledge, showcase innovative solutions, and foster collaboration for a more sustainable built environment.
About CIDB Malaysia
The Construction Industry Development Board was established under the Construction Industry Development Act (Act 520) to develop the Capacity and Capability of the Construction Industry through Enhancement of Quality and Productivity by Placing Great Emphasis on Professionalism, Innovation and Knowledge in the Endeavour to Improve the Quality of Life.
Issued by: Qube Integrated Malaysia
Through: Centriq PR Sdn. Bhd.
Jacqueline Arnold | Joan Tan
Tel: 03 5524 1266 | 012 2069168
---